Day Thirteen: September 23
Day thirteen is my last posting.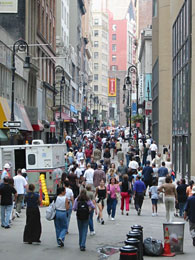 Nassau Street
Today an impressive number of tourists and Sunday strollers descend on the reopened areas of the city. Officers with megaphones prod the quiet, staring crowds to keep moving.

Looking toward Liberty Plaza from Isamu Noguchi's "The Red Cube"



George Washington, Federal Hall



Battery Park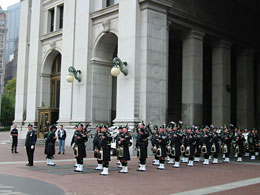 NYPD Emerald Society, Police Plaza
As thousands gather uptown in Yankee Stadium for an afternoon prayer service, bagpipers march downtown to Police Plaza.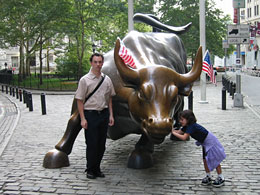 The bull by the nose
Cameras are everywhere; I wait for the statue of the charging bull near Wall Street to clear, but people keep asking me to take their photo in front of it. I finally give up and have someone return the favor.


National Guard staging area, Battery Park
The city has seen an incredible number of changes in the last two weeks, but in many small ways New York is beginning to feel like New York again: when I ask a cop if I can take a photo of the tents in Battery Park, he replies, "sure, you can shoot a squirrel in there for all I care."


Ferry terminal
Ferries to the Statue of Liberty and Ellis Island are still not running, so I settle for the next best thing: a free ferry to Staten Island aboard the NYFB John F. Kennedy.


The Statue of Liberty, with Ellis Island at far right



Debris barges

It's a beautiful, warm afternoon. The Statue of Liberty and Ellis Island are visible in the distance.
A tug boat pushes two barges of tower debris towards a Staten Island landfill.



On patrol

Coast Guard and police boats patrol the harbor, watched over by the 270-foot cutter Tahoma stationed just off of Battery Park.


A new skyline



Damaged but strong

The hole in the city is clearly visible.