Day Eight: September 18
Demand for flags is so high that stores have started posting notices when they sell out.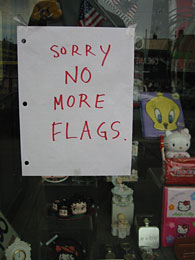 Sold out


Union Square
I went north to Union Square to see the memorials.


America Airlines
My Grandma works this hospital. She washed out dust.
Many were drawn by children.


Under the statue of George Washington


No time for cowboys

The mingled smells of scented candles were everywhere, as were the calls for war or peace, mixed in among the missing person signs.
Men prepared to unload a new statue—a kneeling fireman overcome by grief or smoke or both.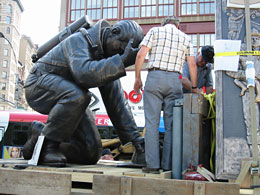 A fireman overcome

Williamsburg
From Union Square I took a subway under the East River to Williamsburg, Brooklyn.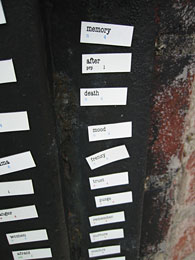 Memory after death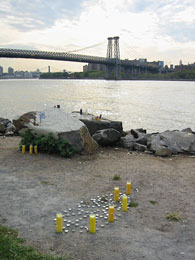 Grand Ferry Park

Lower Manhattan from the Williamsburg Bridge
After a while I walked back to Manhattan across the Williamsburg Bridge, then turned south toward the Manhattan Bridge (at left in the photograph above).

Canal Street entrance to the Manhattan Bridge



Only a trace of smoke in the distance

A week ago today, thousands of people walked across the Manhattan Bridge to get home after the collapse.
I live only six or seven blocks away, but I'd never walked out onto the bridge before tonight.

Brooklyn Bridge and Lower Manhattan