Day Six: September 16
Police check points reappeared along Canal Street east of Broadway today.
In Chinatown, flags were free for the taking. Adults rolled the flags into tubes and held them, children jumped and waved them like sparklers.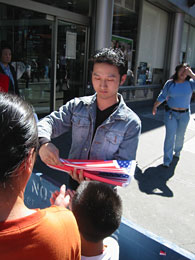 Two, please



Lunch Specials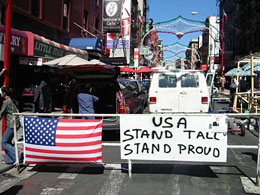 No San Gennaro
Normally at this time of year, Little Italy would be celebrating the Feast of San Gennaro: parades on Mulberry Street, pony rides on the asphalt, hot sausages with onions, and lots of tourists asking directions.
No feast this week. Piles of wood on Mulberry showed where the vendor booths had been dismantled.



Painting in Soho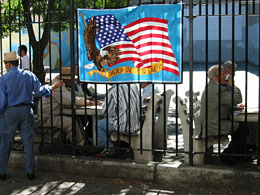 Love it or leave it
It was a beautiful Sunday, and Nolita and Soho were busy. Almost as busy as normal.



11 firemen lost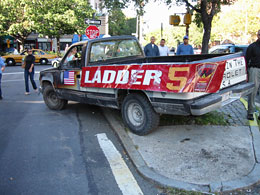 Battle scarred
Farther west, the front of the Engine 24 firehouse on Houston St was covered with flowers.
Engine 24 was of the first to respond to the World Trade Center attack. They lost 11 men when the towers fell.



FEMA vehicle, Pier 40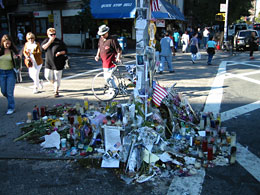 Houston Street
In the late afternoon I walked two bags of needed supplies (batteries, Gatorade, and lots of Vick's Vapor Rub) over to Pier 40 on the West Side Highway.


Donations, Pier 40

The crowds at the pier cheered whenever a military or rescue vehicle passed by.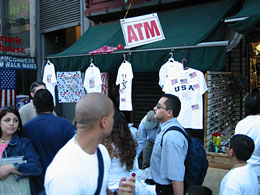 ATM, USA

Walking home along Canal St, I noticed some new merchandise: "I Survive [sic] Attack on America" t-shirts are $4 each (3 for $10). Glossy photos of the second plane impact are $2.